Unit Load AS/RS, Rackpack®
AS/RS (Automated storage and retrieval system)

Unit Load AS/RS, Rackpack®
Quick input and output, handling goods delicately, maximizes storage, accessible to anyone, and economical
Slim & Compact
We have thoroughly reexamined the structure from its framework to eliminate all unnecessary features.
We have succeeded in reducing the weight of the crane by 30% and the rack by 10% compared to our conventional products.
In addition, the better use of limited spaces is possible by slimmer crane mast, which requires less space for installation.
Speedy & Smooth
Equipped with IHI's original Trapezoid Acceleration System, I-TAS (patent pending).
Features a control system that runs more smoothly and quickly; thus enabling input/output in shorter time, while minimizing vibrations to ease impact on cargo. Moreover, a servo motor is adapted to the fork drive to realize the high-speeds while preventing the loads from collapsing.
Vibrations which occur when the crane accelerates/decelerates can be controlled to a minimum. The transport is so smooth and gentle on the goods that a glass filled with water will not spill even a single drop!
Energy-saving & Ecological
Equipped with power regenerative functions as standard. Compared to conventional products, this function contributes to energy conservation and the suppression of unwanted heat.
Additionally, when equipped with the optional capacitor, it can also reduce peak power by effectively applying the regenerated electricity, thus increasing energy-saving effects.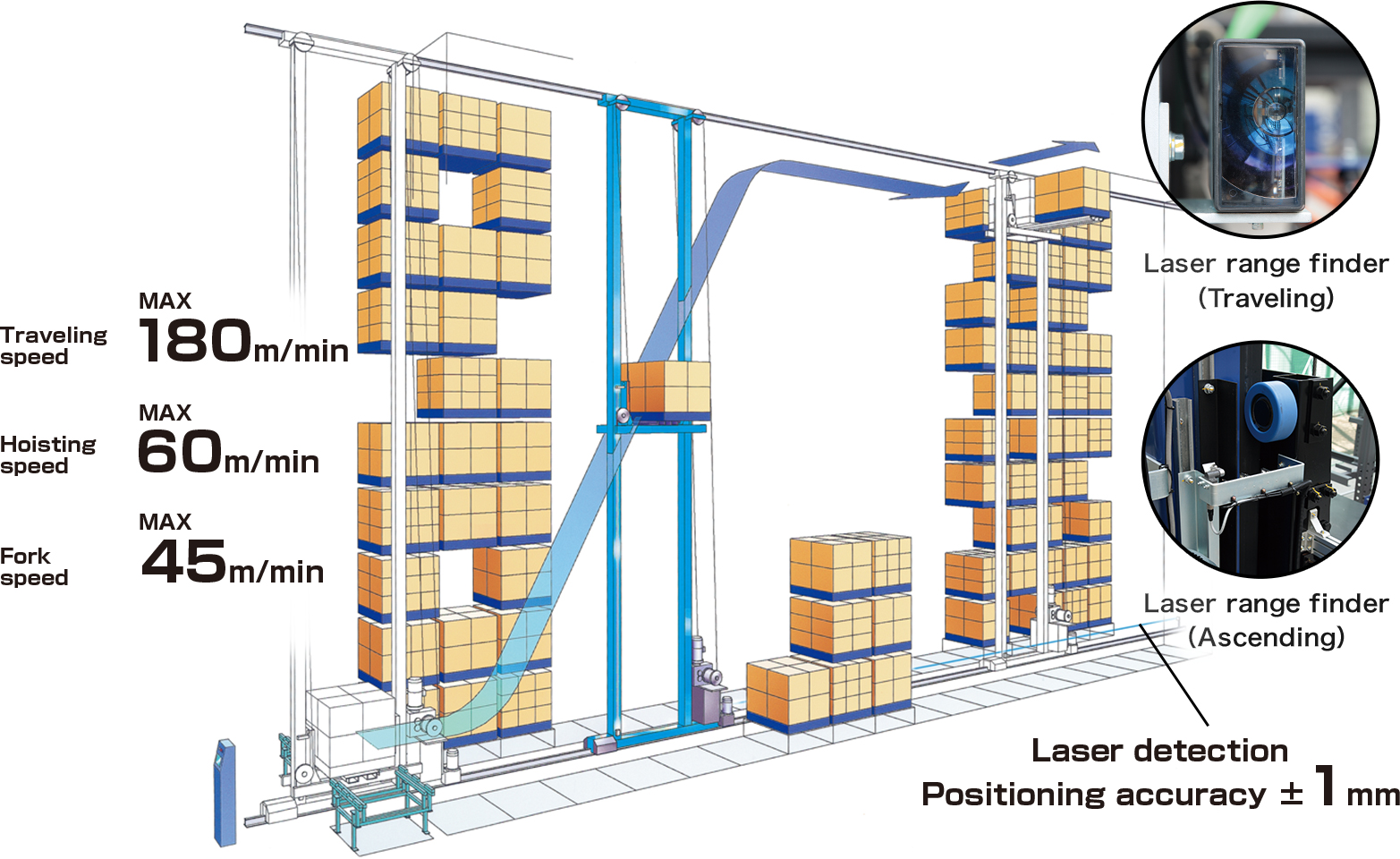 Double-Deep Storage System
Offering the double-reach racking system that allows pallets to be stored two deep.
One crane can secure the storage capacity of two Rackpack®; thus increasing cost-efficiency and reducing maintenance costs.

Single-deep storage system


Double-Deep Storage System
Compatible with various type of loads and environment
By phone (Sales Division)

+81-3-6204-7231