Fact Liner
A Fact Liner is a trackless carrier that can be easily combined with other logistics system and material handling equipment
through the use of numerous transfer devices; such as roller conveyors, push-pulls, and lifters.
Both magnetic-guided AGVs and laser-guided AGVs can navigate spin turns and traversal movements,
enabling efficient and unmanned transport through complex routes.
Lineup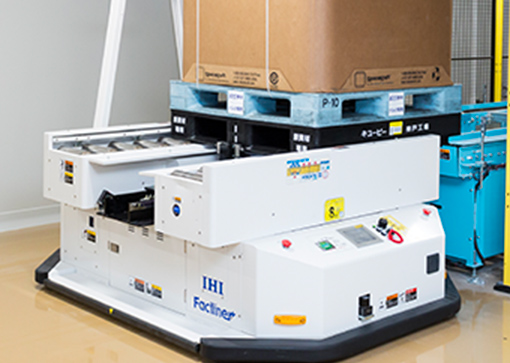 Standard AGV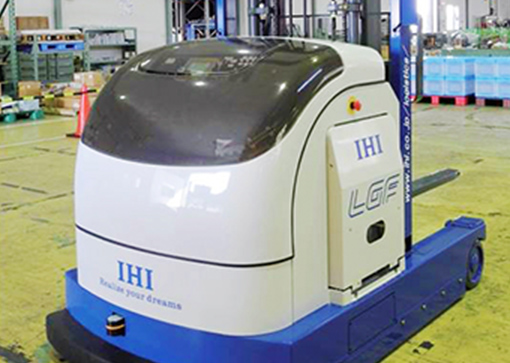 Standard LGF (Laser Guided Forklift)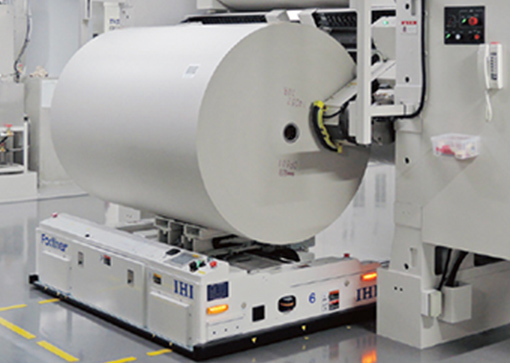 Roll Transport AGV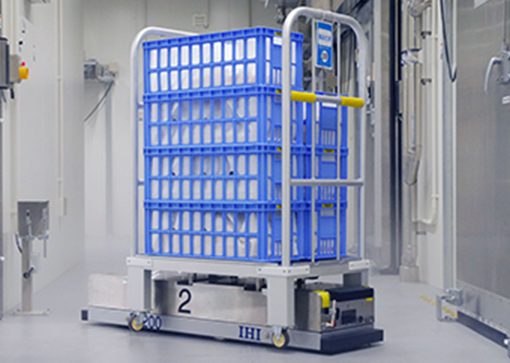 Low-floor AGV (Freezer Compatible)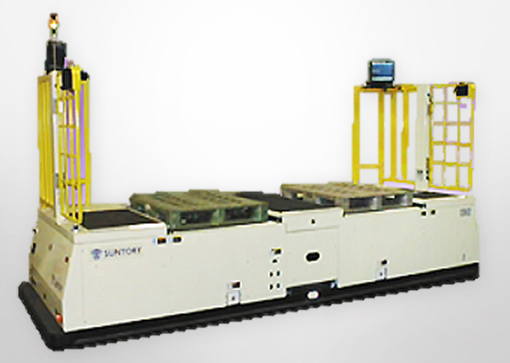 Double Pallet Transport AGV
IHI caters to the diverse needs of our customers with a wide-ranging lineup.

Navigation Systems
IHI's Fact Liners are compatible with both magnetic and laser guidance systems.
IHI offers optimal navigation solutions based on the implemented system.
Magnetic guided System

Pictured is an example using adhesive magnetic tape

Navigation System
A thin and flexible magnetic guide path (made with permanent magnet) is embedded in the floor. Installation of stop and deceleration markers are not required.
Flooring Installation Work
Installation work is required to embed the guide paths into the floor.
(Installation work is not required when adhesive magnetic tape is used)
Layout Modification
Possible with flooring installation work (to install the guide paths)
Stopping Capability
±10mm
Other Features
Guide paths adopt the permanent magnets that can withstand dirt and wear and tear by being stepped. The embedded-type system do not require any maintenance or concern for disconnection.
Laser-guided System

Navigation System
Simple attachment of laser reflector to walls and pillars.
No markers are required.
Flooring Installation Work
No floor construction is required. No dust will be generated from the installation.
Layout Modification
Possible to modify as you wish.
A change of route is easily achieved with the controller.
Stopping Capability
±5mm
Other Features
The reflectors are semi-permanent and have no layout constraints.
Steering system
Front-wheel steering system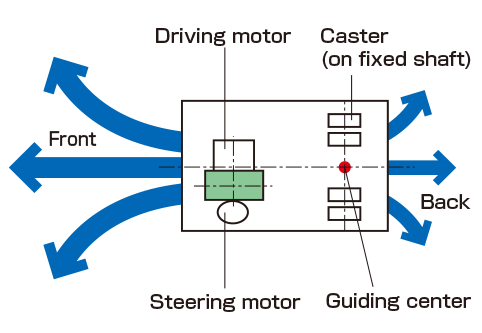 Power wheel steering system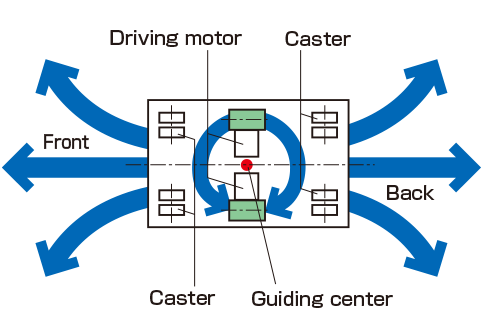 Independent wheel steering system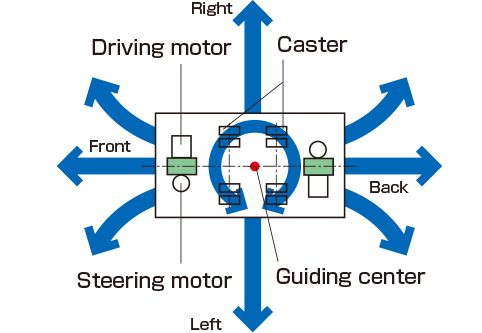 Charging Systems
IHI offers charging systems tailored to your layout and operating conditions to maximize your transportation capabilities; such as automatic battery swaps, automatic auxiliary battery charging, automatic fast charge, and manual charging (replacement), etc.
Automatic battery swap system
Automatic auxiliary battery charging
Pros
Achieves high rate of utilization
(Approx. 99%) *1
Requires no manpower・inexpensive
Cons
Some space is required to install the automatic replacement device
Not suitable for systems with high utilization rates
Automatic fast charge
Manual charging (replacement)
Pros
Achieves high rate of utilization
(Approx. 83%) *2
Small battery sizes are ideal for compact vehicles
Inexpensive
Cons
Both battery and charging devices are expensive
Manpower required
*1 Example: the battery is replaced once every 8 hours. Time required for replacement = 5 minutes. Utilization rate = (8 x 60 - 5)/(8 x 60) = 99%
*2 Example: the battery is charged after every task. Time required for 1 task = 5 minutes. Time required for 1 charge = 1 minute. Utilization rate = 5 / (5 + 1) x 100 = 83%
Safety Features
Various safety measures are implemented to enable workers to operate comfortably alongside the vehicles.
The ground control computer comes with UPS as standard to prevent data loss in the event of a power outage.
All control devices and applications are designed to be failsafe.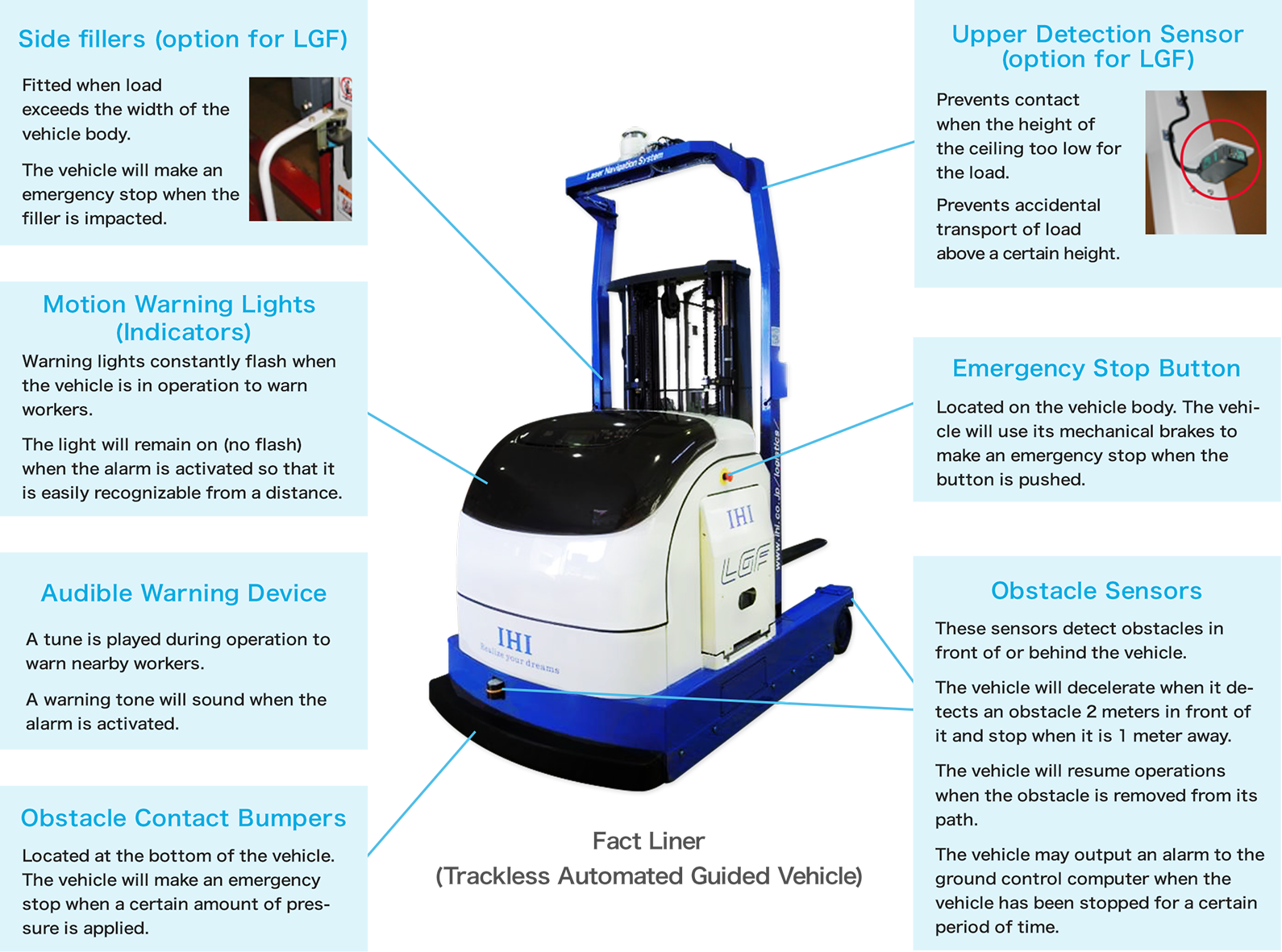 Compatible with various type of loads and environment
By phone (Sales Division)

+81-3-6204-7231